Sun Group Makes Nudist History
Nudist history was made recently by SUN Group when our new advertising sign appeared on the Sandbanks Ferry. Chairman Mark Nisbet led a group of SUN members who toasted the installation of the sign and spoke to reporters from local and national newspapers as well as representatives of BBC and ITV local stations.
"This is the first time that a nudist organisation has advertised openly in Britain," said Mark as the sign was unveiled. "It marks an important step forward for New Wave nudism, which is breaking free of the shackles that for too long have kept naturists behind ten-foot fences. Hiding away reinforces prejudice amongst non-nudists who think of naturism as unsavoury, and Studland United Nudists are dedicated to eradicating that prejudice. This advertising sign is, literally and metaphorically, an indication that there is nothing to be ashamed of in being a nudist. We aim to achieve a situation where nudism is universally accepted without comment, and where there is no need for artificial boundaries or ridiculous restrictions of the type currently being experienced by nudists at Studland and other places around the country."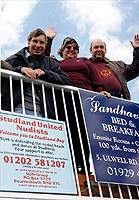 SUN members at the Sandbanks ferry ready to unveil the notice.