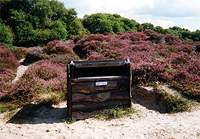 Litter bin on Footpath 6 (recycling bin now also provided)
Litter & recycling
It is hard to understand how people can litter such a beautiful landscape but there's always somebody who walks away leaving a whole days food litter behind for the next unlucky person.
Litter is not only a visual problem. Deer are becoming increasing bold at Studland and now wander right down to the front dunes at night. We cannot be certain that morsels of food litter are what the deer seek but we are aware that deer ticks, which deer can carry, can cause Lyme disease in humans if they choose a human lunch!
Thankfully, in addition to the efforts of National Trust, there are several regulars at Studland who also do their best to keep the beach clean... even when that involves walking around with a carrier bag and collecting other peoples rubbish.
Please help to keep the beach and dunes cleaner and safer
A lot of little actions make a big difference...
Try to bring at least one spare plastic bag with you.


When you arrive tell friends (and especially the kids) where the 'trash bag' is... in a rucksack... secured to a windbreak... tied to the long grass...


Check your spot on the beach is clean before you leave. If there's a few crisp bags or ice-cream wrappers left by someone else consider taking those too.


When you take your trash to the nearest litter bin at the end of your stay use this as an easy opportunity to pick up any other litter you see on your way.


If you smoke try to stub your cigarettes in the same spot and clear the butts too when you leave.


If you want to collect litter left by others bring a few bags and use a spare one as a glove to protect your hands from melted ice cream or worse.


Remember, even 'organic' litter like banana skins and orange peel will not be welcomed when rotting a few feet from the next visitors head.
~ Thank You Very Much ~