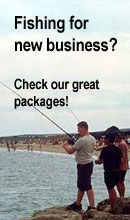 SUN Campaign History - Aug 1999

August 1999 Action Day

To date, as part of our campaign, SUN has organised two Action Weekends each Summer. Our Action Weekend, in June, was not a great success, as reported here so we decided to cut the second one to a single day, and duly met up on August Bank Holiday Sunday. It was a gloriously sunny day - the kind of day when Studland really comes into its own, with golden sands and hordes of tanned bodies.


From soon after 9.30am SUN members were picketing FP6, the main footpath to the beach on the landward side of the broadleaf woodland, with signs, banners and leaflets. A steady stream of visitors mostly stopped, looked at our posters, and asked questions and the majority took leaflets, to such an extent that we had run out completely by lunchtime.



SUN members 'beating the bounds'


We therefore decided to pack up and move onto the beach where, after a quick breather and a dip in the sea, we set off to beat the bounds.

This was quite a strenuous exercise, some of our number having to fall out three quarters of the way round, but at peak we numbered around twenty (making enough noise for fifty!) and were attracting a great deal of attention as we walked around the boundary of the traditional area and along Heather Walk.

National Trust wardens were conspicuous by their absence - one was heard heading towards us on Heather Walk at high speed, but he stopped about fifty yards short of where we were and, after looking everywhere but at us for about five minutes and ignoring our vociferous invitations to come and join us, he turned round and headed back to the safety of the National Trust conurbation at Knoll Beach.

We hardly met anyone en route; one textile visitor walking towards us entered into the spirit of things by taking his shorts off and waving them in the air, but was unable to persuade his friend either to do likewise or to join in the walk, so did not swell our numbers. Next year, perhaps.

Having walked through the dunes and up and down over the heathland, it was something of a relief to return to level ground and walk along the shoreline back to our encampment. With the big banner flying and whistles blowing, we attracted a lot of cheering and applause from other nudists at the "non-conformist" northern end of the beach. The SANTAS* at the southern end were much more snooty!



Having done our bit to raise the profile of SUN, we settled down to a beach party which was thoroughly enjoyed by all who joined in. As our Chairman forecast in TBE8, there were headaches on the Monday! All in all, the day was a great success. A lot more members joined in which made it more fun for everybody, and we spread the word. It's difficult to tell how man new members we gained from the day, as we did not mark the leaflets (we'll remedy that next year!) but certainly several new members joined on the spot - welcome to all of you - and we got bags of exposure, if you'll excuse the awful double entendre! We'll be doing it all again next year - details in events - so mark your diary and come and join in!

*SANTA - a proposed new name for the NT'S groupies - Self Appointed National Trust A*** lickers.

---